5 Water Damage Prevention Tips And What to Do If It Happens
Each year, hundreds of property owners suffer from the consequences of water damage to their property. Water damage is certainly a bigger problem than it appears to be. Water damage can worsen with time, and it can damage the structural integrity of your property.
That is why it is always important to look out for symptoms of water damage and call a plumber once it has happened. This article will help you take certain actions to prevent water damage.
How Water Damage Can Ruin Your Property?
Water damage can seriously harm you, your family, and your pets, not only in terms of health but also financially. Water damage can give the microbes a perfect condition to multiply. Therefore, it increases the infection chances.
It can also contribute to despicable mold growth and a muddy smell on your property.
If you are planning to sell your property, this alone can put a dent in your asking price. One less discussed problem is your warranties may get nullified if you fail to contact a plumber in due time.
This is why looking for the symptoms of water damage proactively will offer many benefits.
Alternatively, following some prevention techniques will help you avoid water damage in the first place.
Clean The Drains Regularly
Drain blockages are one of the most prevalent reasons why water damage happens. Clogged drains or leaking drain pipes occur because of the lack of regular cleaning. Hire a professional drain cleaning company San Diego or buy some drain cleaning products yourself.
Using a chemical cleanser is really a good deal for occasional cleaning. If you hire a Drain Cleaner expert for regular maintenance, you can easily avoid major clogs.
Inspect Your Appliances Regularly
Appliance leakage could lead to water damage to your property. Inspect your appliance now and then to find out any quirks. You can hire a professional crew for regular plumbing inspection every year. Change parts and fixtures if needed.
Hire An Expert Plumber For Regular Maintenance
Maintenance crews are a necessary part of the plumbing routine. If possible, hire a professional plumber for regular inspection and repairs. Water sources that are prone to leakage must be repaired instantly even if there are minor leaks, as they can become a major ones in no time.
Always Check The Moisture Level
Any moisture level between 30-50 percent is perfectly fine. If the moisture is higher than that it could lead to water damage. Having a moisture detector at home always helps in such cases, especially if you live in high humid areas.
If you are sweating more than usual, this also is an indication of high moisture. Hire professional plumbing Cleaning services with dehumidification services to get rid of excessive moisture. Alternatively, you can buy a dehumidifier on your own.
Check Your Sump Pumps
If your area has a basement flooding problem, always keep an eye on your sump pumps. Due to an electric surge, electric power sump pumps' circuit breakers could fall, or the fuse can burn.
If your sump pumps are not working for a prolonged period, the flood water will cause water damage inevitably.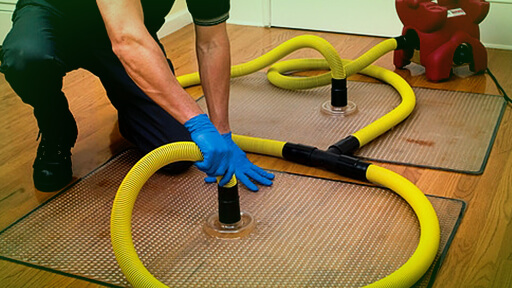 What To Do In Water Damage
Document The Damage
It is vital to keep track of all the damage. Document the severity of it and keep track of the items. If you happen to have insurance, this will come in handy. On the other hand, having the utmost information possible will allow you to explain the problem in proper terms to your plumbers.
Look For Mold Growth
Molds might begin to grow within 24-48 hours. Some kinds of molds are highly toxic and therefore should be treated immediately.
That is why immediately start looking for mold growth and notify the plumbers of that area. Remember to apply natural remedies such as hydrogen peroxide and vinegar mixed with water on the mold surface.
There are other ways to find out about molds, such as damp spots, and wet musty smells. Look for these symptoms as well.
Also Read: Steps to Follow After Your Home Suffers Water Damage
Extract Out All The Moisture
Buying a dehumidifier is probably the best thing you can do in case of water damage. Without necessary moisture, water damage cannot worsen the situation. If you do not have a dehumidifier, get rid of all the standing water. After that, open the windows as well as turn on the fan.
Remove The Porous Materials
Carpet, wools, woods, and unsealed cement are some examples of porous materials. These materials do not let go of the water. Also, it will continue to contribute to the water damage. So, immediately remove the porous materials from the property. If there is sun, consider drying them off in the sun.
Sanitize
Water damage can contribute significantly to the growth of microbes in the property. You can disinfect the entire property using a disinfectant. Always use mild ones and mix them with water. Bleach works well, but it might damage some areas of the property. Opt-out for a more natural solution.
You can deal with water damage easily if you have an experienced plumbing company by your side. Professional companies have all the necessary tools, equipment, and knowledge that makes the job easy.
If the water damage is pretty big, call a plumbing company for inspection and repair/restoration. Water damage repair by EZ Plumbing and Restoration is guarantee backed and reliable. We offer affordable water damage restoration packages. Our plumbers are available 24/7 including on public holidays.